Dear all members of JYJ Family Vietnam,
June has brought us so many important events, including the
birthday of Park Yoochun – a member of JYJ band – on June 4th, Father's Day on June 17th, and Family's Day on June 28th
. In order to celebrate these special events, JYJ Family Vietnam organized a charity trip in both
Hanoi and Ho Chi Minh City
on
June 24th, 2012
. We gathered together to contribute to the development of our community and, especially, to send a thank-you message to Yoochun's father in heaven – who brought the world a warm, sparkling star.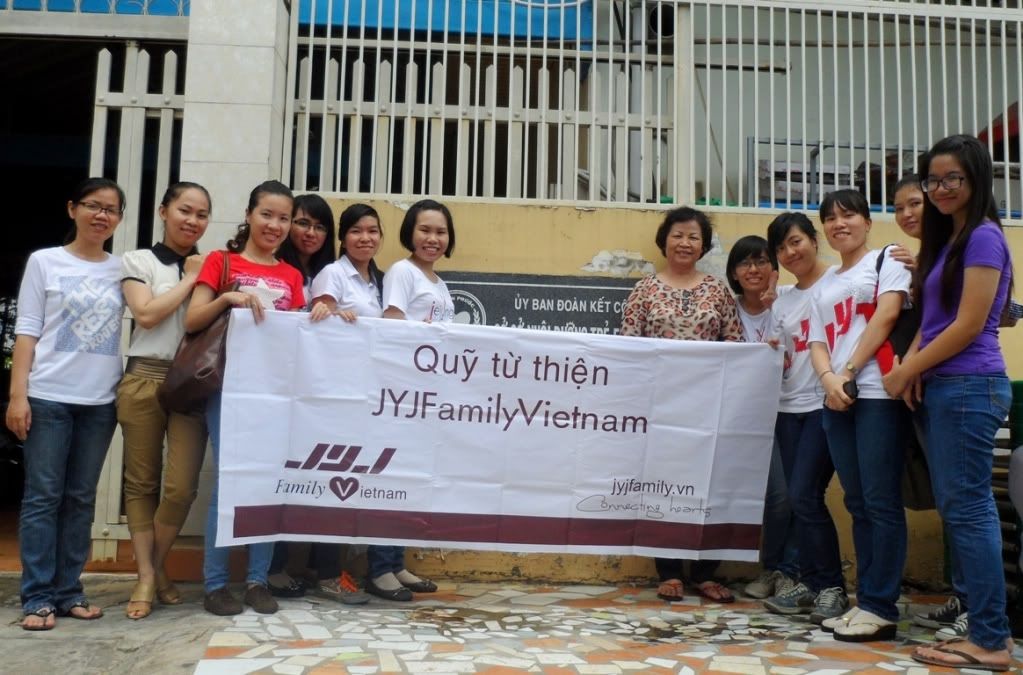 7:30 a.m. A group of volunteers gathered at Hara's house to put the boxes of gift in truck. Since all of our members are girls it took quite a long time to prepare but everyone was happy to participate in this charity activity. The gifts were daily necessities such as rice, milk and washing powder, all of which contains a lot of love for the less fortunate.
8:00 a.m The transport group and the volunteer team gathered in front of the BIDV Bank. We are very happy to see that our fansite as well as charity activities have attracted more and more attention.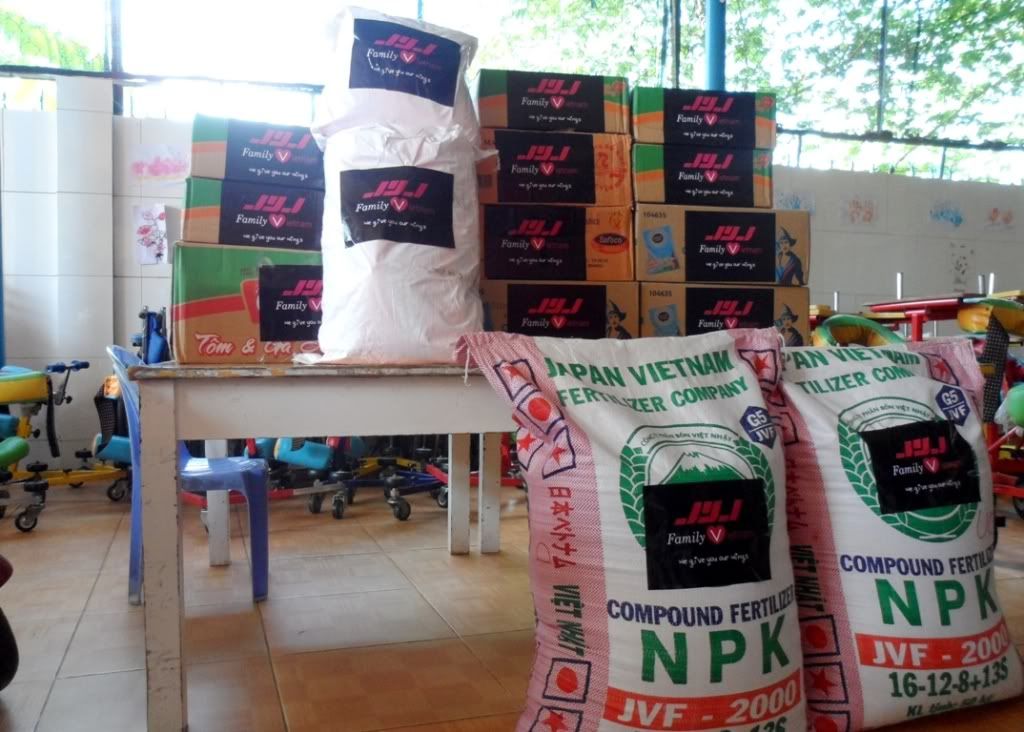 When came to Thien Phuoc Shelter, work was divided into 2 parts: preparing banner and arranging boxes of gift. Everyone was really excited and enthusiastic.
The aunts from Thien Phuoc Shelter,who were so hospitable took the volunteer team around and guided us how to make friends with the kids.
The kids living here are not able to walk, which means they can only seat or lie to play. In the physical medicine room, we saw they trying to rehabilitate. Some were managing to walk around, some practicing with their arms, some lying to keep legs stable. Before being massaged for 4 minutes by an Australian man, they have to practice with limbs in 25 minutes. It requires a strong effort of the instructors as well as the children' coordination.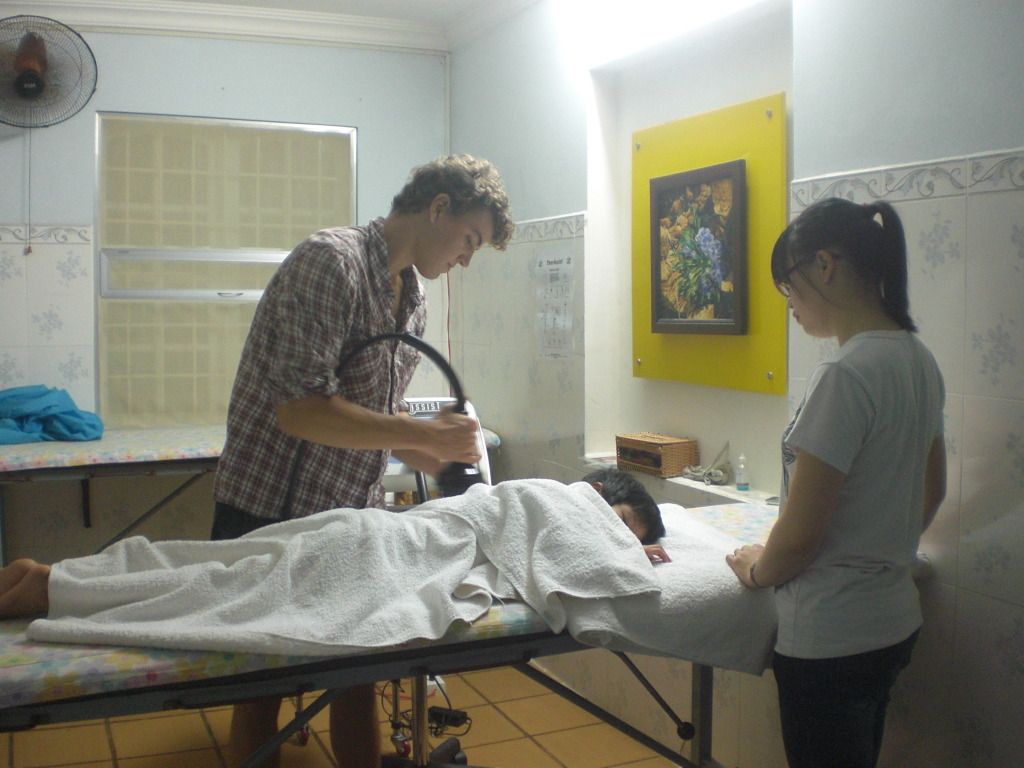 The next thing to do was to feed the kids who had much more difficulty eating than normal ones. Almost all of them cannot eat by themselves. While taking care of and feeding the kids we could understand more how hard it was for the aunts to look after those unfortunate children and wanted to help them with our best.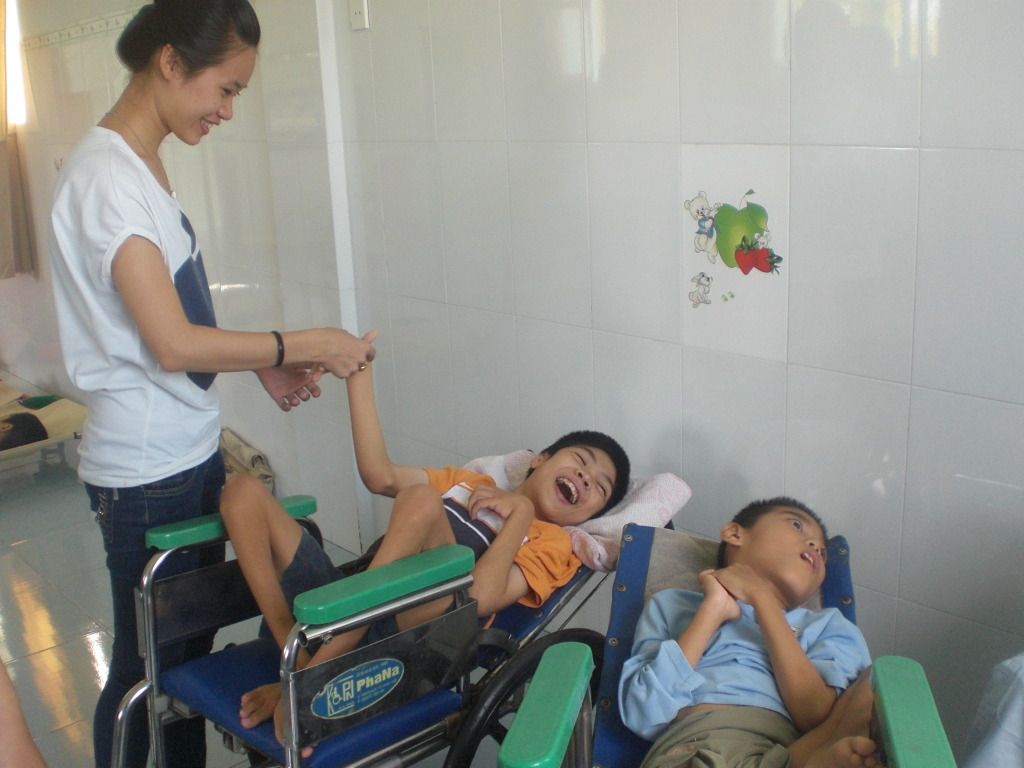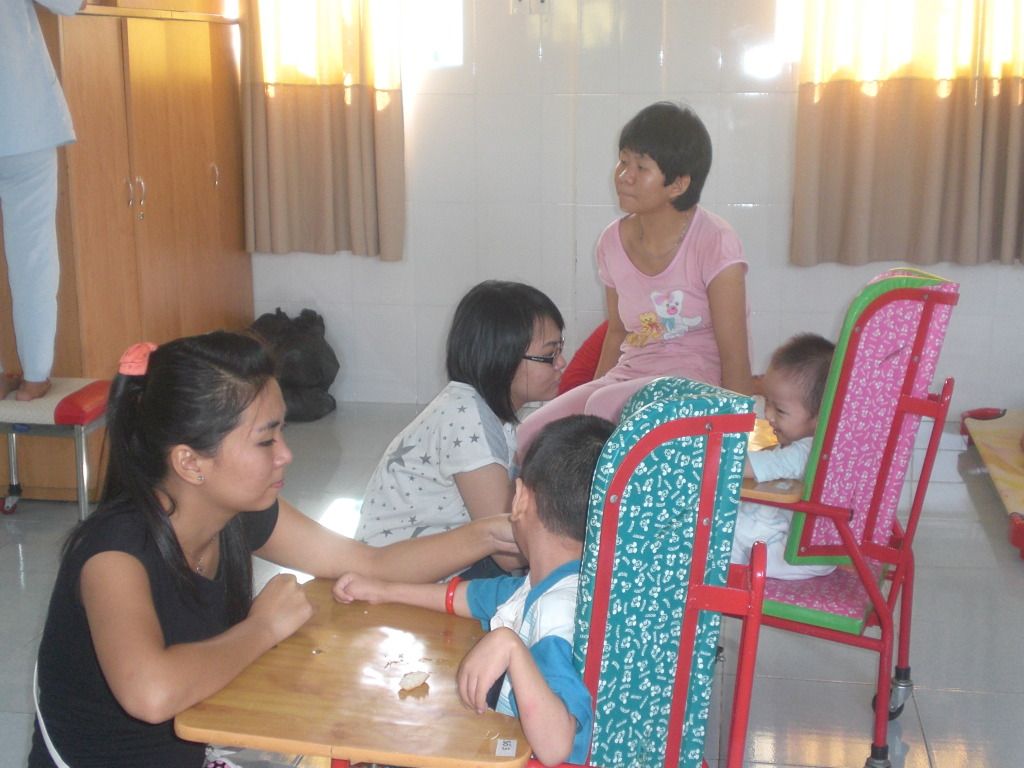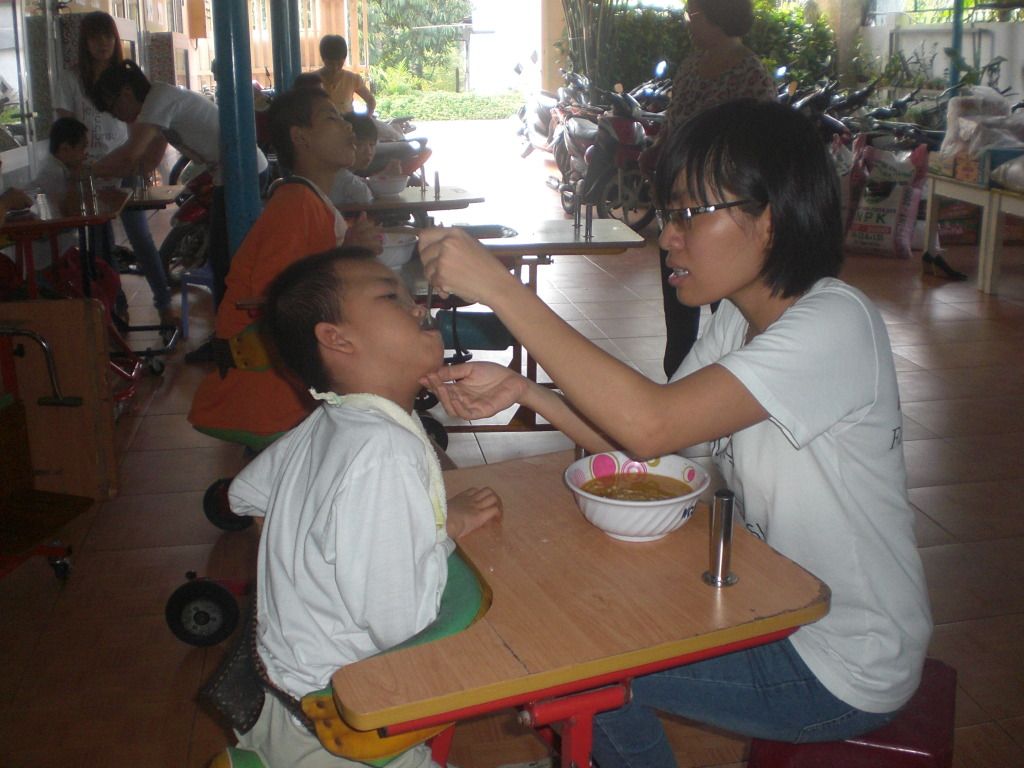 The more love you give the more love you have, right?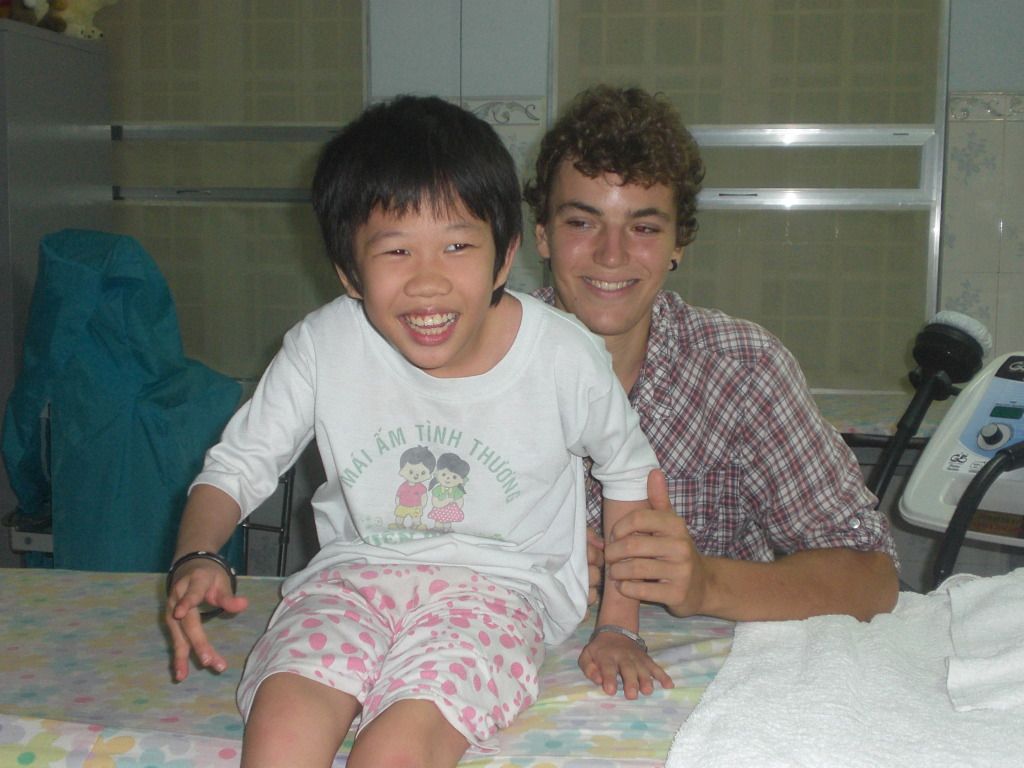 Some memorable moments.
Tien is an adorable nimble girl. Despite her disability, Tien is always happy and energetic and she really cares about her friends. Probably because of her smile, we felt very comfortable to talk and play with that little girl and tell her funny jokes to make her laugh.
When I saw two boys struggling to walk step by step, I tried to talk and encourage them to go on. However, it was so difficult to understand them because they refused care from me. One boy watched his friends playing – he seemed to want to join so much but he was scared. I didn't know what to do but look at his hopeless eye. Suddenly, he moved out and showed a sign of wanting to do something, which I couldn't understand until Tien said: " He need to go to the toilet". I looked at her in surprise wondering how she could know what he wanted just through eyes. It was such a miracle…
Although kids in Thien Phuoc Shelter are disable, it doesn't affect their souls at all. They can totally feel the love from others and express their feelings in different ways. Their eyes are the most beautiful, sparkling thing that show gratitude for people who really care about them. We hope that someday we will come back to this place realize how beautiful life is while spending time with the children.
By: spektor@JYJFamilyVN